Final Broadcast episode TWO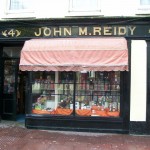 A rousing second show. Fireworks, the problems in Greece, and Arnold screwed us all. In addition to disliking going to the movies, I reveal how much I hate video on websites. Riveting. Plus a breakdown of the current crop of new releases at the theater that I won't go see. Plus great tunes laid down under my pleasant ramblings.



final_broadcast_show2.mp3
[ 27:37 ]
Play Now
|
Play in Popup
|
Download
(392)
No comments yet.
No trackbacks yet.